Streamline payment dispute management using intelligent process automation, analytics, smart forms, and digital signatures.
Reduce dispute processing time by
90 percent

and stay ahead of compliance requirements.
Payment Dispute Management
Covering payment disputes across Reg E Debit Cards, ACH, ATM, Zelle using EFT, Bill Pay using EFT, Reg Z Credit Cards, Wire Transfers, Check Fraud, Mobile Deposits and Stop Payments
Alerts and easy deadline management
Post customer adjustments the same day.
Automatically calculate and issue adjusted provisional credit
Digital customer experience
No more switching between the core and spreadsheet, and other solutions.
Complete the entire process in a single click.
No more data entry (and the errors that inevitably follow).
Solution Overview
FINBOA Payment Dispute Software
Fast to implement, easy to use, automated payment dispute tracking. With FINBOA's Payment Dispute Management platform you can leverage pre-defined workflows, alerts and an intuitive interface to digitally transform your payment dispute processes. FINBOA Payment Dispute Management software can be implemented quickly, often achieving 'go live' within 90 business days.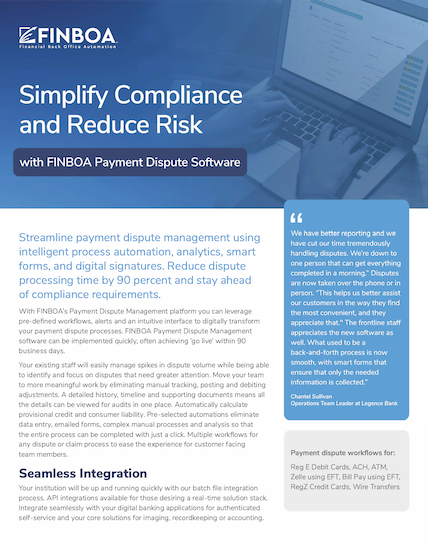 FINBOA Payment Dispute Software
Fast and Seamless Integration
Get up and running quickly with batch file integration.
Integrate seamlessly with your mobile and online banking applications.

Integrate with your back-end core quickly and easily.
We work with banks and credit unions using the top core providers, and we have solutions for integrating to card processors. We deliver the integrations that make it possible to eliminate manual steps from end to end. FINBOA also has formal partnerships with top core providers to make launching the FINBOA solution even easier. Reach out today and let us know who your core provider is and we will connect you with the right person to get started with FINBOA Dispute Management quickly and easily.
We have better reporting and we have cut our time tremendously handling disputes. We're down to one person that can get everything completed in a morning.
- Chantel Sullivan, Operations Leader at Legence Bank
Request a demo
I'm ready to automate my payment disputes process.
Schedule a no-obligation personalized demo with a member of the FINBOA team.