The retail banking Customer Experience (CX) has gotten a lot of attention over the past decade with heavy investment in mobile and online banking services. In fact, front-facing systems are so digitized that it makes our back-office processes seem nearly archaic. What's going on with the back-office Employee Experience (EX) and how does this variable affect the formula for a superior customer banking experience (CX)?
Remember this standard business advice: A happy employee makes a better employee. Happy employees equal better service which means happier customers.
In today's world, the formula for a great customer experience depends on a modern, digitized employee experience. Here's how this concept works in banking services:
Happy Employee x Good Service Experience = Happy Customer | Happy Member
This relationship tells us that the employee experience (EX) is worth improving and making investments; but has the retail banking industry really paid attention to this?
If this was an Operations class, the equation for success would look like this:
Positive Employee Experience (+EX) x Skilled Employees (+SE) = Positive Customer Experience (+CX)
Here is the equation for not-so-great experiences that often show up in retail banking:
Frustrated Employee Experience (-EX) x Skilled Employees (+SE) = Negative Customer Experience (-CX)
The challenge for banks and credit unions is to turn those negative employee experiences into positives.
Our clients tell us that the most frustrating aspects of the manual back office are: repetitive data handling, disconnected information from multiple systems and searching in multiple databases to complete risk management and regulatory compliance tasks. These all contribute to slow, frustrating employee experiences (-EX) that burn-out the best employees and reveal antiquated processes to clients in areas like payment dispute resolution and treasury onboarding activities. Automation and collaboration tools are very effective in turning a negative employee experience (-EX) into a positive experience (+EX).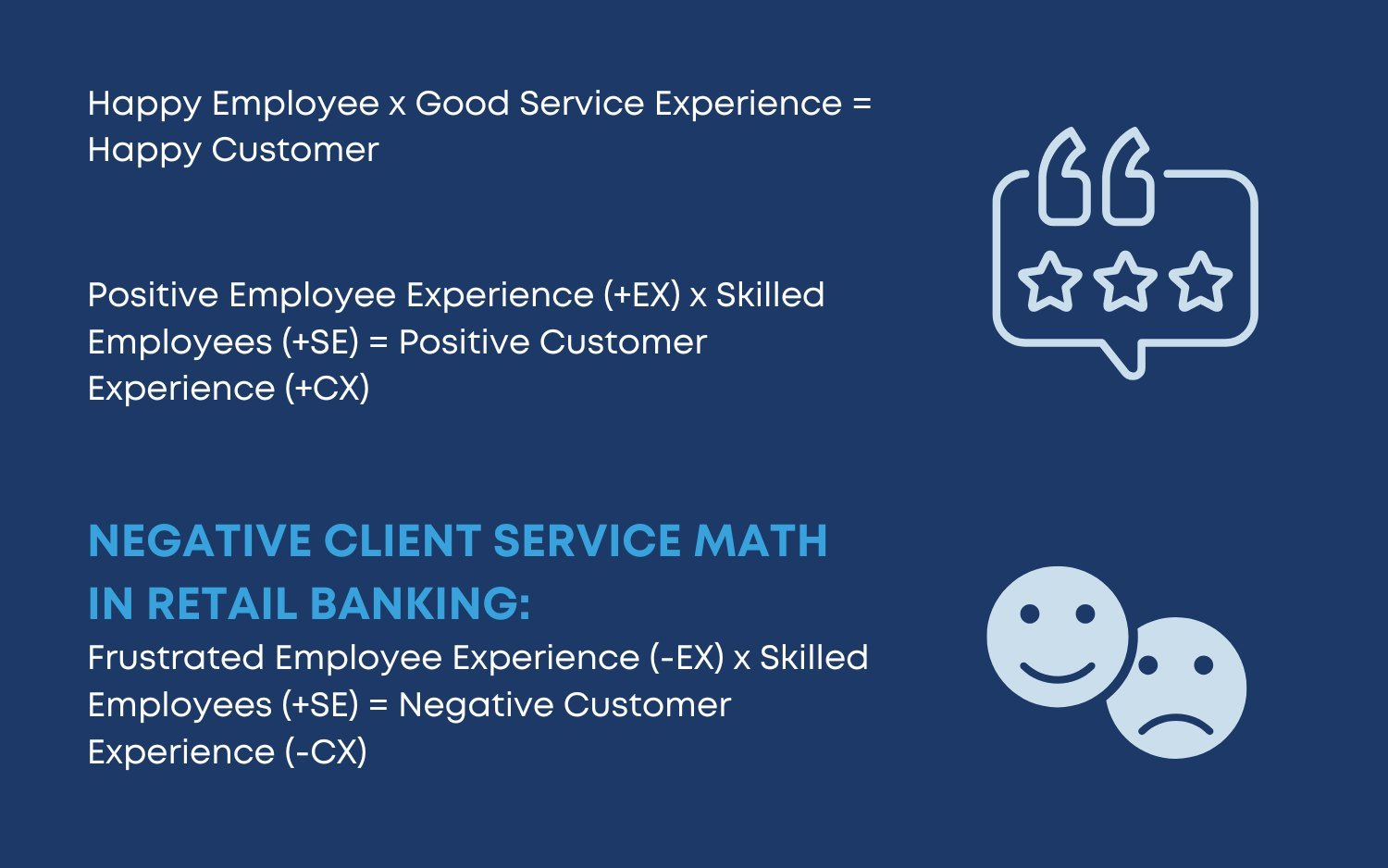 Technologies That Enhance Operation Experiences for Everyone
Technologies that enable collaboration make an impact on employee satisfaction and the employee's ability to serve clients and provide excellent client service experiences. Workflow automation is the key to create not only a faster, better client experience; but offer employees a superior collaboration experience and allow them to deliver a higher-level customer experience.
Here are specific ways to transform the back-office employee experience:
Automation can reduce the number of systems or databases a banking employee must open and interact with to complete a client claim, application or request.
Centralized data access facilitates reporting and decision-making across the organization, while also enabling access to the information required to respond to customer inquiries.
Streamline processes by deploying digital smart forms, eSignature, letter templates and integrating to banking Core systems streamlines dispute intake. Automation tools enable efficient and complete capture of customer, account and loan onboarding without inaccurate rekeying or duplicate requests for information to be provided.
Providing automated deadline alerts and provisional credit calculation improves compliance.
Customer Experiences Improved By Automation
The best customer experience (CX) improvements are achieved by modernizing and streamlining back-office processes. Customers increasingly want to know that their trusted financial institution provides a similar modern, digitized experience to what they see in mobile and online services. Back-office automation is the technology to deliver these service improvements and efficiency gains that ultimately lead to better customer experiences and more profitability.