Why Consider Compliance Automation
The growth in Digital Payments has caused financial institutions to turn to process automation for compliance management. Regulatory rules are complex and require accurate application to ensure compliance and minimize costs or loss. Banks and credit unions that continue to use manual systems risk regulatory findings, have reduced operational efficiency, greater staffing challenges, and higher customer complaints. These challenges impact the bank's overall ability to grow.
There are many benefits institutions can experience by implementing an end-to-end digital solution for compliance. Replacing manual systems with banking-specific process automation, provides a wide range of competitive advantages, including cutting costs associated with:
Non-compliance risk and fines
Claim-related write-offs and losses
Outsourced merchant processing fees
Non-revenue headcount staffing and training
Audit prep, remediation and regulatory oversight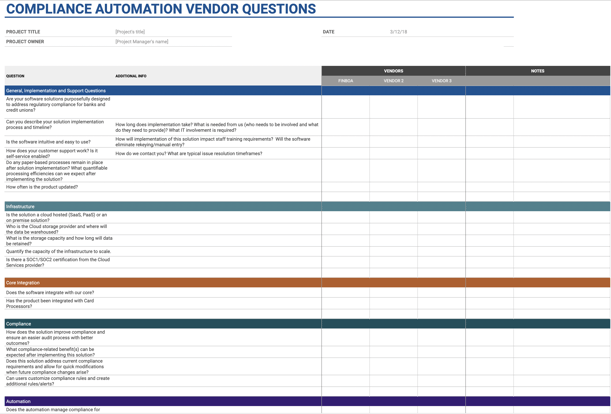 Download an Editable Spreadsheet of the Vendor Evaluation Checklist
Automating complex compliance processes is also a key lever used to improve the customer experience. Card fraud is already a stressful event. Making the dispute resolution process as easy as possible for the customer is critical in delivering a positive customer experience. This means providing a convenient, intuitive and transparent process with fast resolution.
Choosing the Right Banking Compliance Automation Partner
It is important to ask the right questions in order to find the best long term solution, built for an ever-changing consumer and regulatory landscape—and supporting your digital transformation initiatives. We've put together this comprehensive checklist of questions and considerations our customers have shared during the software vendor evaluation process.
We recommend financial institutions consider these points when selecting a vendor for back office automation (including Reg E and Reg Z dispute management; exception management for accounts, customers (CIP, CDD) and loans; and workflow management for the wire approval process).
General, Implementation and Support
Are your software solutions purposefully designed to address regulatory compliance for banks and credit unions?
Can you describe your solution implementation process and timeline?
How long does implementation take? What is needed from us (who needs to be involved and what do they need to provide)? What IT involvement is required?
Is the software intuitive and easy to use? How will implementation of this solution impact staff training requirements? Will the software eliminate rekeying/manual entry?
How does your customer support work? Is it self-service enabled?
How do we contact you? What are typical issue resolution timeframes?
Do any paper-based processes remain in place after solution implementation? What quantifiable processing efficiencies can we expect after implementing the solution?
How does this enhance the digital banking experience?
What is the customer-facing (account holder) experience? Consider intake, forms, notifications, signature requests...all the way to resolution.
What is the average impact to claim processing time?
How many active customers does your solution currently support?
Does the software integrate with chargeback systems?
Infrastructure
Is the solution a cloud hosted (SaaS, PaaS) or an on premise solution?
Who is the Cloud storage provider and where will the data be warehoused?
What is the storage capacity and how long will data be retained?
Quantify the capacity of the infrastructure to scale.
Is there a SOC1/SOC2 certification from the Cloud Services provider?
Security
Provide the date of the most recent cyber security review and/or penetration testing results for the solution.
Is the company PCI DSS Certified?
Is the system monitored 24 X 7?
Is there a documented Disaster Recovery (DR) & Business Continuity Plan (BCP) in place?
Core Integration
Does the software integrate with our core?
Has the product been integrated with Card Processors?
Compliance
How does the solution improve compliance and ensure an easier audit process with better outcomes?
What compliance-related benefit(s) can be expected after implementing this solution?
Does this solution address current compliance requirements and allow for quick modifications when future compliance changes arise?
Can users customize compliance rules and create additional rules/alerts?
Automation
Does the automation manage compliance for internal users?
What types of customer automations or workflows can the solution accommodate?
Integration
Where appropriate, does this solution post debits and credits to core system?
How does the solution accommodate integrations?
Features Comparison
Are the automation features offered specifically designed to enable the compliance requirements of banks and credit unions like mine?
At a minimum, does the solution provide these process automation features?
Digital document submissions through smart forms and e-signature
Integrated document generation system with institution-specific letter templates
Rule-based system for deadline and data alerts
Core system integration via file-batch exchange or API
Calculation of provisional credit and consumer liability
Optional GL adjustments and posting to customer accounts
Enterprise-wide data access for inquiries or reporting